Ahhh, the Pacific Northwest. Home to some of the most gloriously stunning + diverse landscapes in the country. There's no question why people from all over the world travel to enjoy all of the views that the PNW has to give.
If you're planning on eloping in the PNW, you may find yourself overwhelmed by the many amazing spots Washington has to offer! As an experienced PNW based Wedding + Elopement Photographer, I put together a list of some my FAVORITE adventure elopement locations in Washington.
1. Mt. Rainier
A vast, and breathtaking mountain located just a couple of hours from Seattle. What better place to tie the knot than here, with its EPIC view? Mt Rainier is open all year, BUT my favorite time is when the wildflowers are in bloom (July to mid-August) leading into the amazing fall colors of September and October.
2. The North Cascades
The dynamic North Cascade National park is over 1,000+ miles of stunning Mountains, alpine lakes, and glaciers. The overabundance of views at this national park makes for some pretty epic elopement spots for nature and mountain-lovers.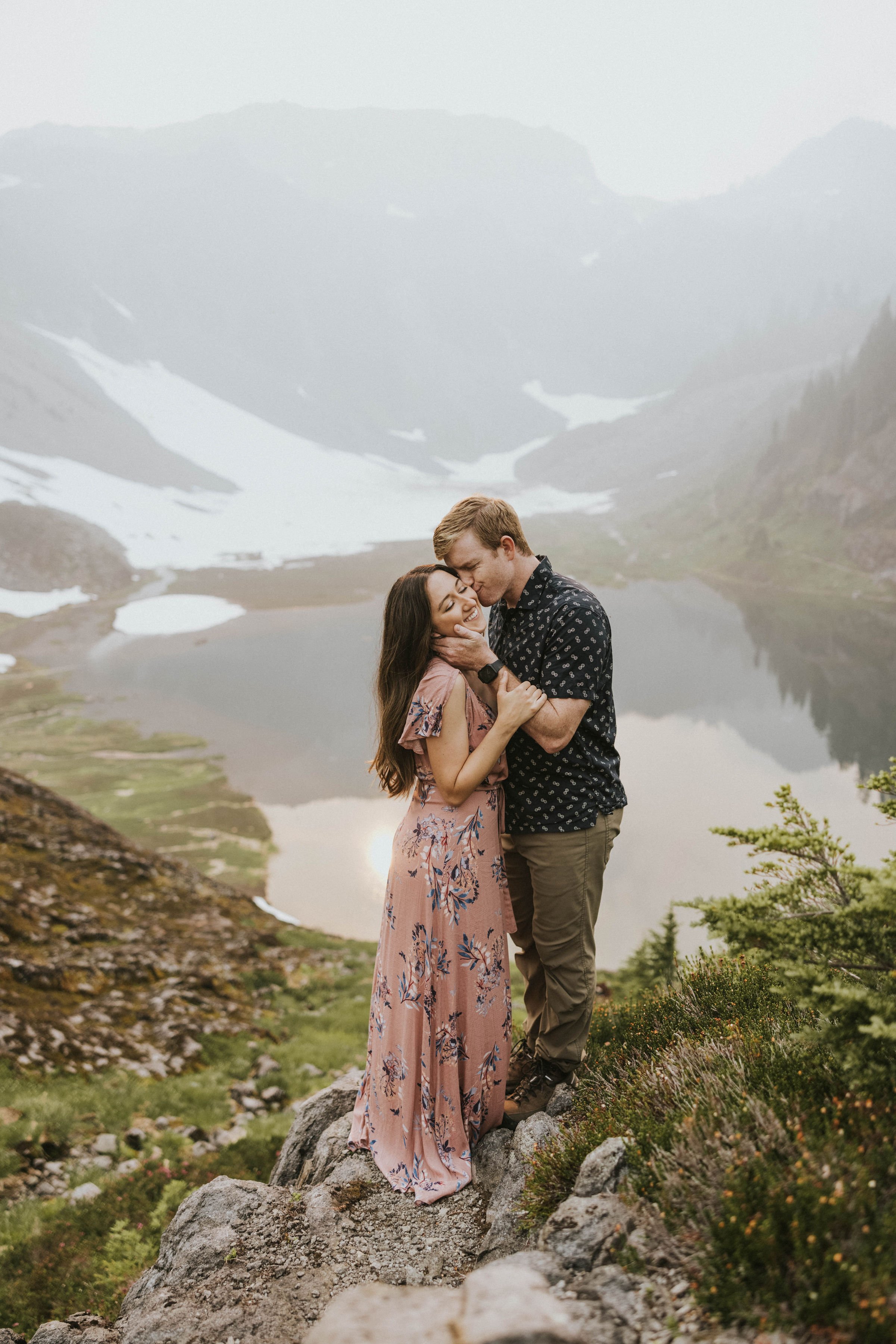 3. The Washington Coast
Nothing beats the magic moodiness of the Washington Coast! If you're looking for a distinctive, perfectly gloomy landscape option, look no further…
The Washington Coastline is dominated by dramatic rocky cliffs, ancient moss-covered trees, majestic water features, and endless miles of sandy beaches. The photo(s) below is from one of my recent elopements at Ruby Beach, a true gem.
4. HOH Rainforest
If you want your elopement to look like it was taken straight out of a mystical fairytale, this is the location for you. This area is well known for its biodiversity. There is a surplus of moss, ferns, and trees towering at 300 feet- making for one of the lushest and greenest forests you've ever seen!
5. Snoqualmie
Snoqualmie is a city 30 miles east of Seattle and offers a variety of beautiful locations for elopements. Snoqualmie Falls is one of the lesser known (but one of the most gorgeous) tourist attractions in this area. Franklin falls is a great option for couples looking for a more private, intimate experience.
If chasing waterfalls isn't your thing- make sure you check out Gold Creek Pond for a more relaxed, (easy to get to) location with a jaw-dropping view.
6. Vantage
Although much different than the locations listed previously, Vantage is the ultimate location for a person wanting to elope in the desert without the plane ride! Between the unbeatable sunsets and the picturesque desert rocks – this location is sure to satisfy anyone looking to accomplish their "desert vibe" elopement dreams.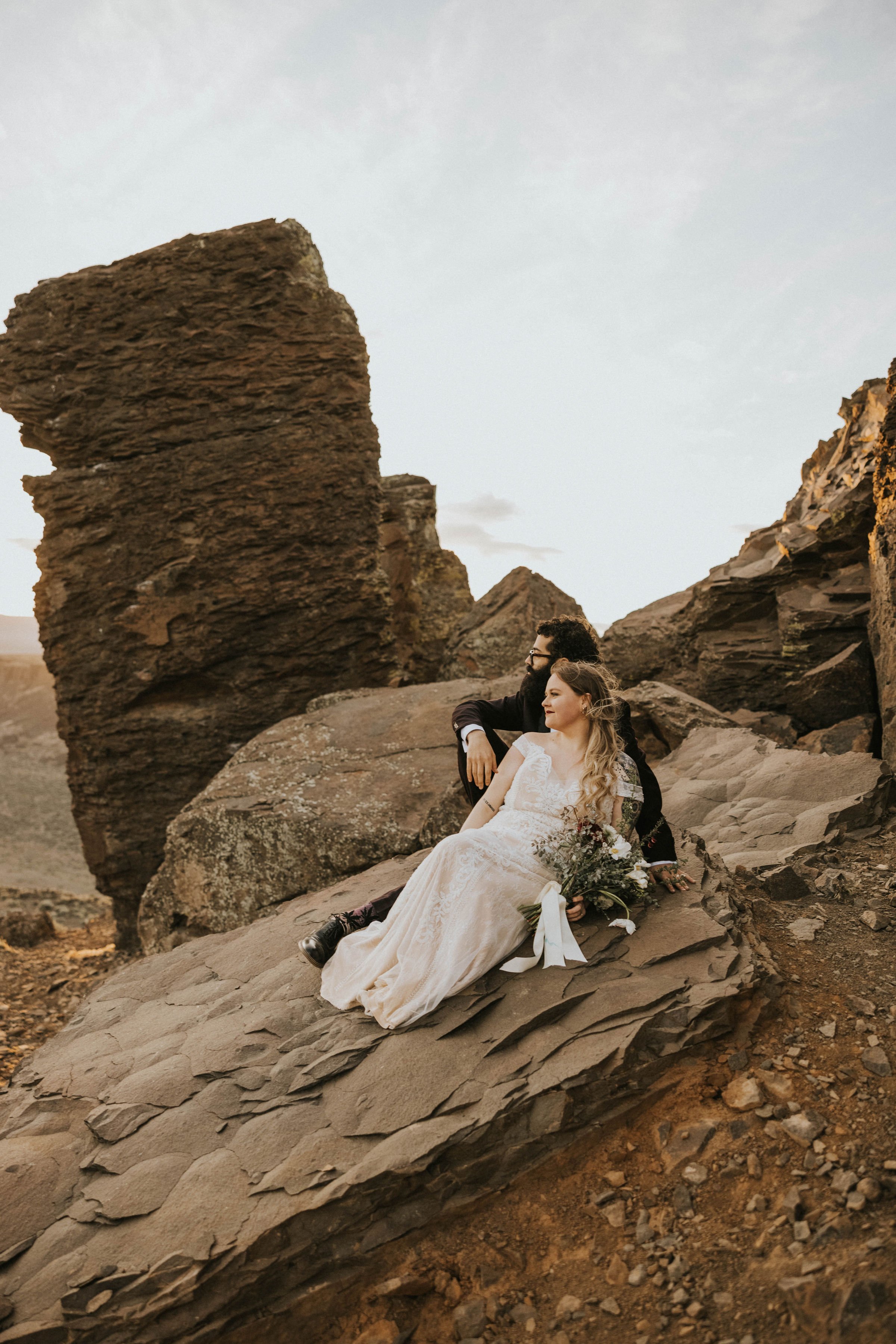 Important things to remember when planning an Adventure Elopement in the PNW:
LEAVE NO TRACE.
With all of the sights that Washington has to offer, doing your part to preserve its natural beauty is critical.Make sure to thoroughly educate yourself on how to properly leave no trace when planning your elopement in any Washington parks or wilderness areas. Some key principles to remember are:
Plan ahead and prepare.
Stick to the trails.
Camp in designated spots .
Dispose of waste properly.
Leave what you find.
Respect Wildlife.
Be considerate of other visitors.
SECURE THE CORRECT PERMITS + PASSES
Each park and agency has its own rules and regulations surrounding permits and they can vary greatly from one area to the next. Make sure to research and prepare for your elopement to secure the correct permits and passes needed for your PNW Elopement.
BOOK AN EXPERIENCED ELOPEMENT PHOTOGRAPHER
Choosing the right photographer for your adventure elopement can feel overwhelming, but it doesn't have to be! Most importantly, you want to make sure you choose someone who meshes well with your personality. After all, you will be spending the majority of your day with them! Also, be sure to ask to see a full wedding or elopement gallery to make sure their work resonates with the style of photos you want. That way, you can get a better idea of what you'll be getting if you book with them!
The last thing you want to be sure of is that your photographer has plenty of experience photographing these types of elopements. You want someone that is familiar with the terrain. You also want a photographer that is comfortable adventuring and photographing in these types of locations so they can help guide you through your planning process!
If you're looking for someone with plenty of experience and that is willing to go the (literal) extra mile to perfectly capture your Washington adventure elopement (or anywhere else, really)..
Hit the button below to book! I CAN'T WAIT FOR OUR ADVENTURE!